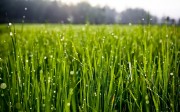 Nixalite of America Inc., the leading manufacturer of bird control products for 66 years, gives tips on how to prepare for spring pests.
East Moline, IL, March 22, 2016 (Newswire.com) - As warmer weather approaches, you'll notice more pests in and around your home or office. This is why it is important to prepare your home or office against these pests as soon as you can.
​The following tips will assist you in keeping your home or office pest-free through the upcoming spring and summer months.
​​

​Make

Your Home or Office Inhabitable for Returning

Birds​


As birds return from their warm winter vacations, they're going to be looking for a place to build their nest. Don't let your home or office be a bird's new home by using various bird control methods (bird spikes, bird netting, bird traps, etc.).
About Nixalite of America Inc.
​Nixalite is the leading manufacturer of effective and humane pest bird and wildlife control products. Established in 1950, Nixalite is a third generation family owned firm with over 150 years of combined experience.
For more information visit https://www.nixalite.com.
Share: