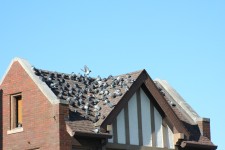 Nixalite of America Inc., the leading manufacturer of bird control products for 66 years, offers tips on protecting your home or office from migrating birds and the dangers they bring.
East Moline, IL, April 15, 2016 (Newswire.com) - ​​​​​​As the weather begins to warm, birds will begin migrating back to your home. Nixalite of America Inc., details the dangers of allowing birds to perch or nest around your home, and how it can help keep you safe.
THE DANGERS OF BIRDS​​
Many species of birds can carry more diseases than some mice and rats.

Cory Gellerstedt, President
​Bird

Droppings​​​




​​Besides

being unsightly, bird droppings cause a variety of problems. Bird droppings can cause surfaces to be slippery and induce falling, corrode all types of surfaces or finishes, and spread disease.

Structural Damage
When birds decide to perch or nest, the accumulation of bird droppings and nesting materials can be heavy enough to cause bridges to collapse and roofs to cave in.

Illness and Disease
Many species of birds can carry more diseases than some mice and rats! Bird droppings, especially, can cause food and water contamination,

histoplasmosis

, salmonella, meningitis, and E.

Coli

!

Expensive Repair & Cleanup
A bird infestation that has been allowed to exist for too long can cause major damage to virtually any type of surface. Repairing and cleaning roofs, monuments, and other finishes can be very costly.
HOW TO DETER BIRDS FROM YOUR HOME OR OFFICE
ABOUT NIXALITE OF AMERICA INC.
​Nixalite is the leading manufacturer of effective and humane pest bird and wildlife control products. Established in 1950, Nixalite is a third generation family owned firm with over 150 years of combined experience. For more information visit https://www.nixalite.com.
Source: Nixalite of America Inc.
Share: